Take the next step toward advancing your career. We're here to help you accelerate your growth and strengthen your payments expertise through our professional certification program.
Visa University offers world-class certification programs designed to help elevate key roles within the industry and open new career opportunities for payments professionals.

---
Becoming Visa Certified
Our certification programs consists of required exams with recommended courses that help you prepare to take the exams. Upon passing the exam(s), you'll become a Visa Certified Associate or Professional and will receive a digital badge to highlight your achievement.
Quick Links: FAQ | Program Policies | Program Candidate Agreement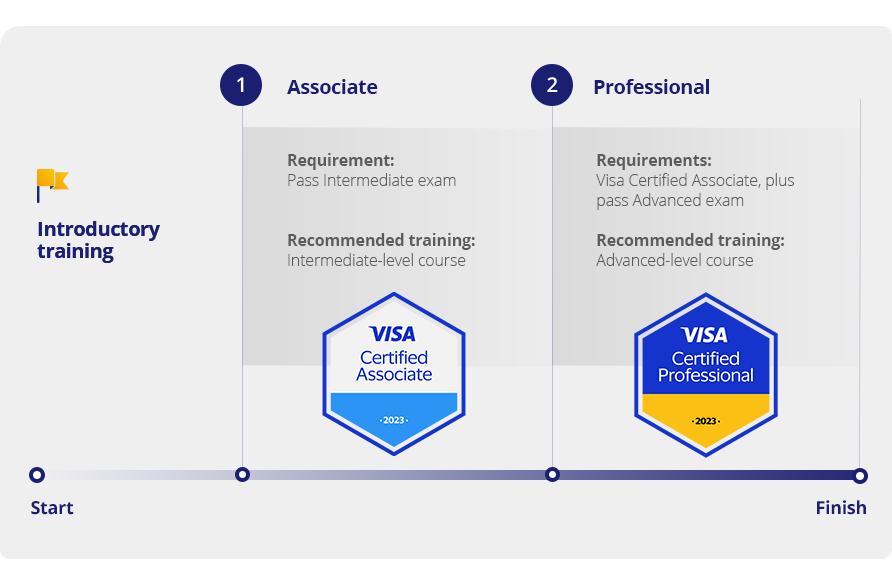 Choose your certification
Visa Dispute Resolution Certification
The Visa Dispute Resolution Certification program is designed to meet the demands of an increasingly complex industry that needs trained and knowledgeable dispute resolution professionals.
Learn More
Visa Payments Cybersecurity Certification
Developed in partnership with Visa's cybersecurity experts, the Visa Payments Cybersecurity Certification program is designed to help you learn new skills, advance your career and expand your cybersecurity knowledge.
Learn More
Benefits of Visa Certification
When you become Visa Certified, you'll join a distinguished group of individuals who have the knowledge and skills organizations are seeking in top-performing employees. You'll also:
Become a go-to contributor in a dynamic, fast-growing field
Increase professional credibility and stature
Accelerate your growth in the payments industry
"A certification is proof that you know what you're doing. It provides external validation that you have the skills needed to succeed."