Digital Payments Library is a comprehensive payments training library designed to help you develop your career and stay current in our ever-evolving industry.
Our new streaming library brings Visa's expertise directly to your desktop and covers compelling topics including dispute resolution, fraud, the payments landscape, portfolio management and operations.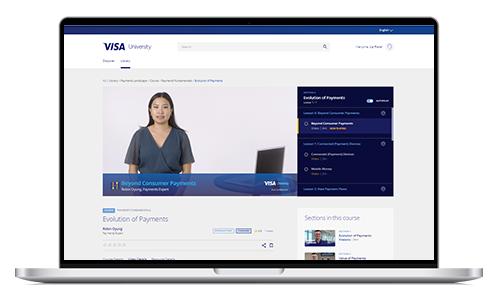 We developed Digital Payments Library to help you fit learning into your day. Our short, engaging videos can be viewed individually, as part of a playlist or as a complete course, allowing you to tailor your training to your unique learning style and goals.
Within the library, you'll be able to track your progress, bookmark content, rate videos, view closed captioning in English and Spanish and more.
Your annual subscription includes:

Seven of Visa University's introductory courses, now available as on-demand training
Access to 375+ videos, plus downloadable resources and more
Curated collections developed by Visa's global experts
Access to an exclusive cryptocurrency course delivered by Visa's cryptocurrency team